Engineering Industries
RAY ESTABLISHMENT - Company Products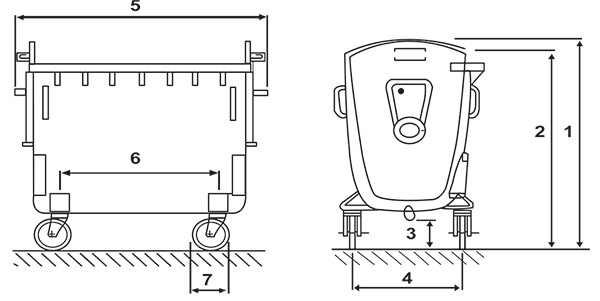 ---
| Number | Dimension (cm) |
| --- | --- |
| 1 | 147 |
| 2 | 129 |
| 3 | 130 |
| 4 | 75 |
| 5 | 137 |
| 6 | 88 |
| 7 | diameter 20 cm |
Metal container made of galvanized metal with capacity of 1,100 litres without a cover and with slatted shape.
The metal thickness for the body and the pool are not less than 1.8 mm for the container. Also the container is galvanized a minimum thickness of 15 microns.
The pool of container is slatted shape and its depth is more than 10 mm, and the proportion of ribbing increases about 20% of the total area of the container.
The thickness of wheels base is not less than 5 mm
The container is supported with metal hatchers to protect the pool and wheels base. The thickness of the used metal tin is 3 mm
A pipe with outer diameter (0.75 inch) connecting the top of the container body and strengthen the frame so as to be welded inside and outside erratically 3 cm long and spaced by distances of 15 cm and on the edge of the container and the top edges with supporting the edges by metal strengthening in the form of a triangle
A drain with serrated plastic cover at lowest point of the container and diameter at least 2 inches
The container is supported with stakes 3 mm of thickness to protect the container(corner reinforcement).